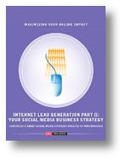 Internet Lead Generation Part II: Your Social Media Business Strategy
Develop a social media strategy that will systematize your time and effort for maximum results.

Social Media is here to stay. Learn how to maximize its potential for business by constructing a smart social media strategy that is specific to your real estate niche, sphere, or farm!
Objectives:
Choose Your Social Media Tools

Build Your Social Media Brand

Create a Lead Generation Campaign

Customize your lead generation, consultation and servicing materials to match your style, personality and strengths.

Capture, Connect, Close and Cultivate your social media leads
This course is intended for any agent, from the social media novice to the avid Twitterer!

View this course on KWU.

Contact Beth to schedule this course in your area.